This useful article demonstrates a structure for effective YouTube video promotion that we recommend you implement, resulting in immediate results to popularize your content.
Outgoing file
You should name the source file with your main keyword (even before uploading it to YouTube). This has a great impact on video optimization and many people either don't know this tip or don't appreciate it, but it has a significant impact on seo optimization.
Outgoing file
To search for a keyword and its correct spelling, use the free service
wordstat.yandex.ru
or
youme.gg
. These services will allow you to analyze keyword queries on YouTube at the moment.
By the way, on our blog there is an article about useful services for YouTube bloggers. We recommend you to read it. I'm sure you will find something interesting for yourself..
Correct title
It is better to place key phrases of the title at the beginning, and for example, corporate identity elements are better at the end. The title should be short, up to 30 characters (these are YouTube recommendations). Of course, do not always dwell on the keywords of the title, but it is important that the title corresponds to the content. Wanting to please the search engine more than the live people visiting your channel, you risk losing the latter. Try to choose words that will match the content preview, as together they should juxtapose a cohesive picture.
Build intrigue into your headlines, but don't make them clickbait!
Video description
It is important to always write a description for each video, as it directly affects the promotion of the content. Seo description make no more than 2-3 sentences that really describe the essence of the video. Also, add key phrases from the title itself to the description. Description should be placed at the very beginning, and then can follow links to social networks and other things, but do not overdo it, as YouTube does not like when a lot of third-party resources in the description. Duplicate the title of the video in the very beginning of the description is also a good trick for seo optimization.....

Please note: Using inappropriate and misleading keywords and metadata in the description is a violation of YouTube's Terms of Use.

Example of a good description: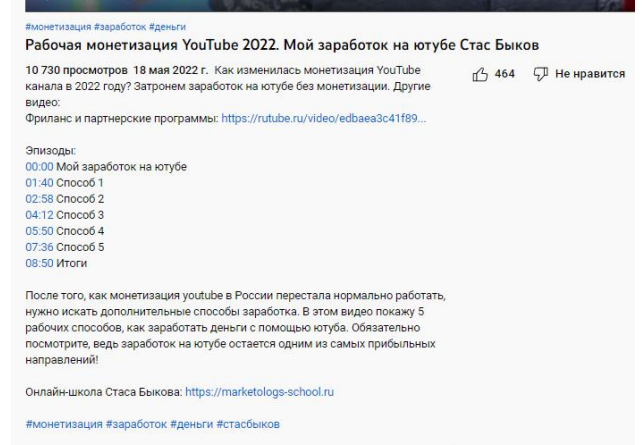 Tags
Tags should reflect the most important topics of your video. First of all, add keywords or phrases from the title and description to the tags.
For each video it is worth selecting both narrow, i.e. more individual, and general tags. There should be exactly as many tags as possible, so that they can be used to guide you to what is shown in your video as accurately as possible.
Keep your tags up to date - it makes sense to update or edit them from time to time. For example, if after 2-4 weeks the video is not gaining views, then correct the tags, add broader-general, swap them. It's important to experiment here.
I remind you, tags are prioritized based on your title and description and do not be lazy to exhaust the limit on the use of all 500 characters!
It's a very cool trick to write competing tags of different projects or brands or, for example, take tags from successful videos and implement them in your own. The main thing is that the tags should correspond to the meaning of what you are saying.
Feel free to use the
vidIQ
extension, which helps with the selection of recommended tags. The free version gives you three free recommended tags. The paid version costs about 700 rubles per month and still gives you a lot of benefits, including unlimited recommended tags and many other advanced features. Also, the paid version has an "Achievements" feature, thanks to which you can analyze the Seo of any videos and implement chips already in your content. The tags with numbers on the screenshot are the recommended tags from vidIQ, which show where the video will be if you use this or that query through YouTube search.
Making quality previews
The image should be in a resolution of at least 1280x720 px, preferably 1920x1080 px. and in JPG format with a size of no more than 2 MB.

The picture should be juicy and bright. You can write a keyword or query on it, but don't be shallow (less words are better, but they will be clear and understandable, even when reduced). But remember that the main goal is to make it evoke emotions and a person would like to click on it to find out what is there next.

Also, you can periodically change the preview after a certain time. For example, first make a picture for subscribers, and a week later, when your audience has already watched or you can make a general icon for a wider audience.

Don't skimp on the designer! You can order a preview from a freelancer, the cost of usually a beautiful picture ranges from $5 to $7 on the market. Delegate and save your time. Contact us, We will recommend dozens of designers from our bases if needed. If you are on a tight budget, pump up your skils and learn how to make beautiful covers on your own. Below I'll send a simple tutorial on how to make a cool selling preview.....
Category
The category should match the topic of the video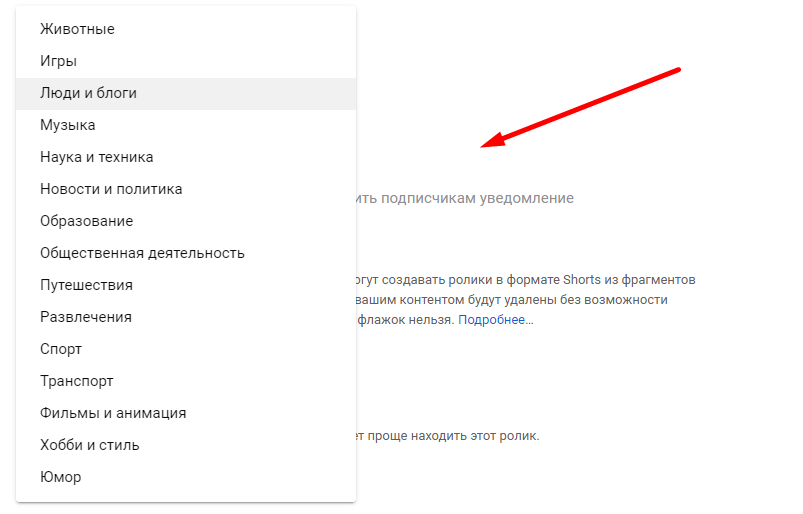 Hashtags
Hashtags begin with a lattice and are spelled consecutively, e.g. #murragency

Write only the main keywords (the most popular ones) that are used on YouTube + 1-2 of your personal keywords so that only your videos can be found using them.

Write hashtags at the very bottom of the description. The first three hashtags will automatically appear above the title of the video. If you write the hashtag directly in the title, then the hashtags from the description will not appear above the title.
Subtitles
Add your own subtitles or edit those that recognize your speech automatically. As practice shows, not all words are accurately understood.

You can add subtitles in other languages, but this is done manually. YouTube indexes videos with subtitles better than those that do not have them
Translation
In the "Subtitles" section, you can also implement automatic translation of video title and description into other languages in parallel. This feature also has a great effect on seo optimization. Use it!

Implementing the cues
Be sure to make cues to your previous videos and set them to appear at the right moment when you touch on a certain topic of an old video. It is desirable to do it in the continuation of the topic or at the right moment when you say it in the video itself.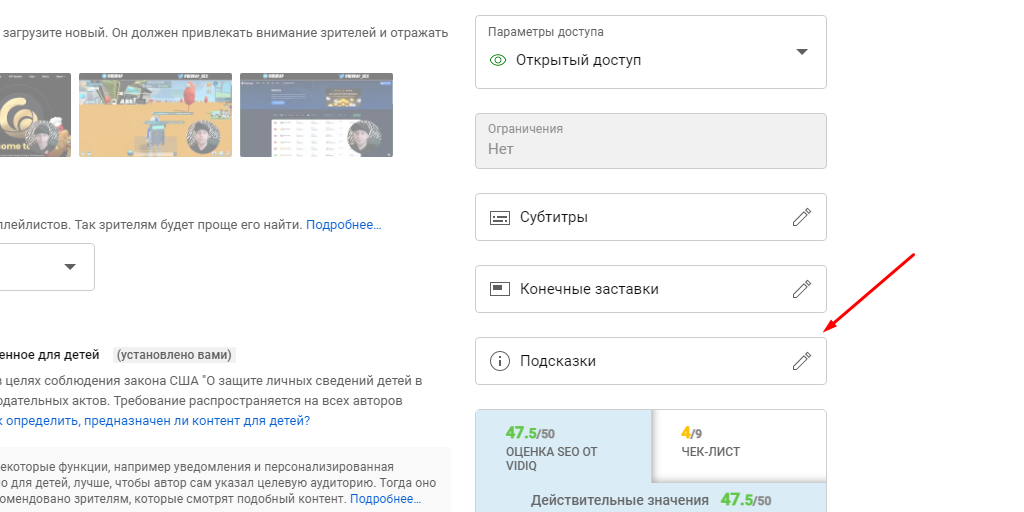 End screen saver
In each video, place end screensavers and indicate there the previous videos in the continuation of the topic. You can add a new video or just a video that makes sense, and every time a user views the main content, the next video will be recommended to them.

Also, you can add a subscribe button to your channel or a link to your website.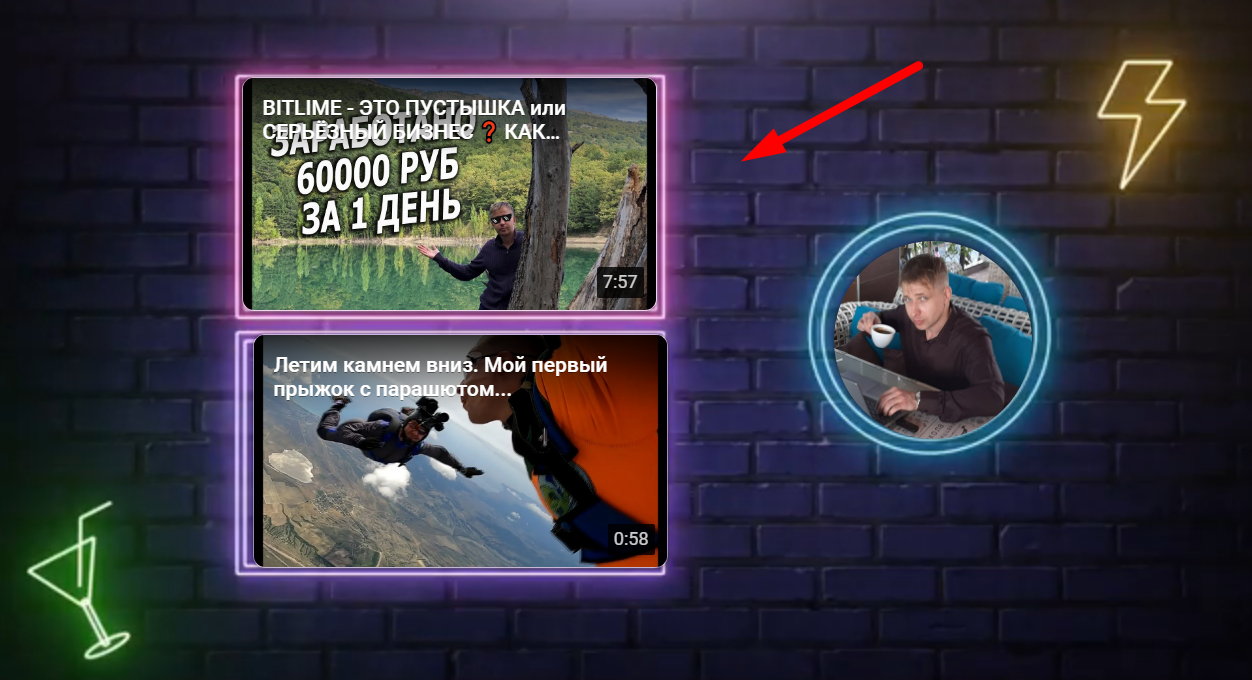 Playlists
Add videos to playlists every time. These can also be optimized for search by including keywords in the title and description. Playlists also participate in search.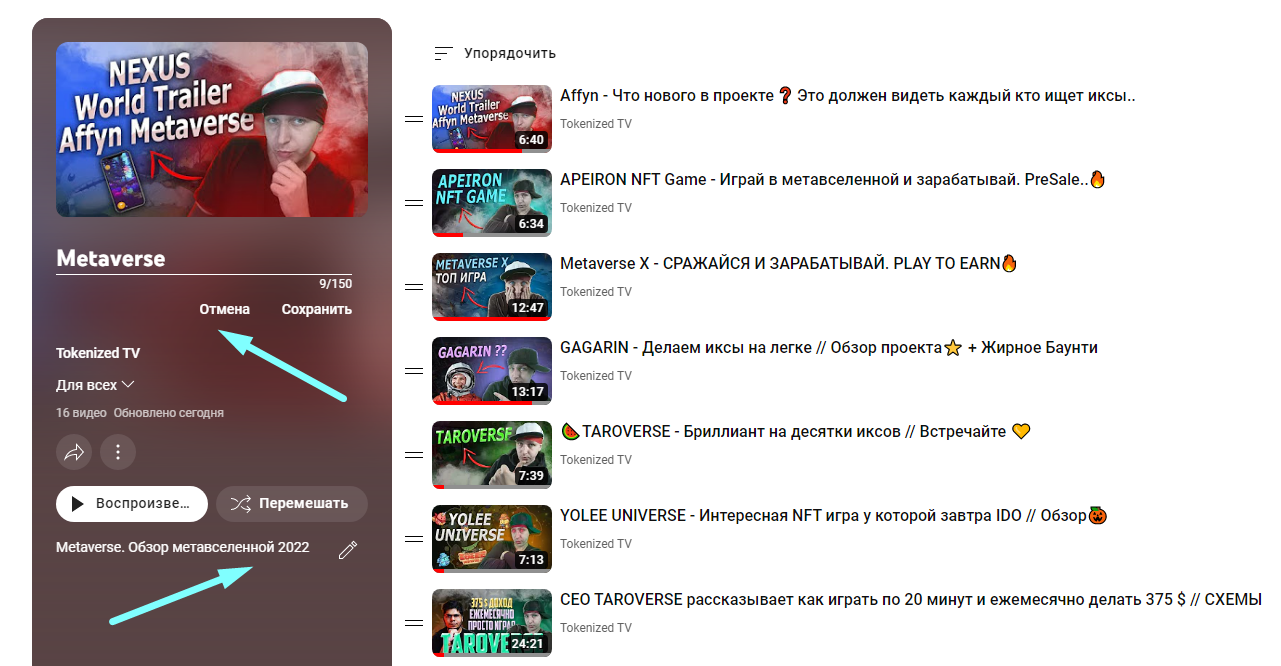 Timecodes
Start the timecode at 00:00 and then write the title of the episode. Try to include search keywords in the episode title. Place it in the second part of the description and under each other.
Pinned comment
Be sure to write 1-2 sentences with keywords in the comment. There you can also leave an active link to your site or other videos. Pin the comment so that it will always be at the top and give it a "like author" comment
Primary activity
After publishing the video, you should make reposts to all your social networks. The main thing is that you should insert a direct link to the video with an active banner (picture). In this case, viewers will go to your channel, and not view the video in the built-in player of the social network (which guarantees the accounting of views).

Of course, try to place a link to the video where possible, in active communities, groups, chats, where there is your target audience

It is necessary to show the video exactly to the target audience to maximize retention and activity. This is the only way to get to the top
Communication
Engage with your audience in the comments. Ask and answer questions. Your job is to create discussion to drive engagement. Even after a month to a year, still answer your audience's questions.
CTA and call to action
Call-to-action or call to action. I've noticed that the vast majority of bloggers forget about calls-to-action. Communicate with your audience during the video, ask questions, make calls to comment, opt-in, like, comment, write a comment, give your opinion. Do this throughout the video. For example, at the beginning of the video, in the middle and at the end.
Positioning and charisma
Be free in the frame and always match your image, it feels! Have your own style, be charismatic, don't mumble, speak clearly and expressively. Be a magnet for people, be a person you want to watch.